Monterey Farms, locally owned and operated, brings healthy culinary delights to you and your family
Fresh ArtiHearts, straight from California's artichoke farms, and our unique and flavorful Chef Butters are guaranteed to elevate any meal to a world-class culinary experience.
Monterey Farms ArtiHearts are local artichoke farm sourced and hand trimmed down to their hearts ONLY and seasoned with all-natural ingredients. Fresh from the field, their taste, texture and quality is unlike any other artichoke heart. A MUST TRY!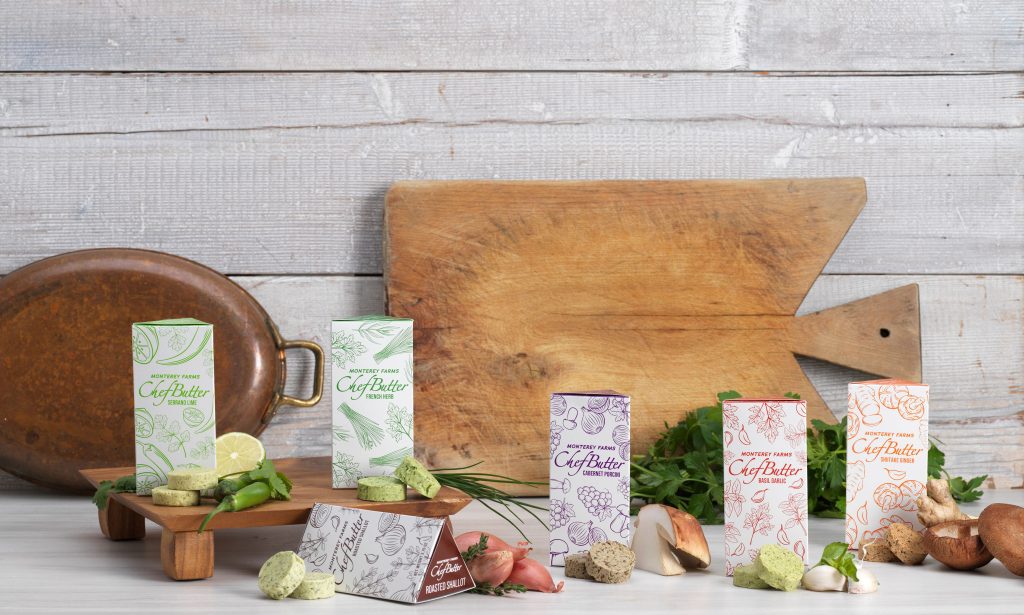 Monterey Farms Chef Butter is a culinary game changer! Freshly made, intensely flavored compotes are churned into AA Grade butter. Simply add a medallion to any recipe for a delicious burst of flavor.
Jane Hayes is the founder and president of Monterey Farms since 2000. After working in the culinary field for over 25 years, her entrepreneurial spirit came to life. Exploring new ideas, she began R&D in her home kitchen using locally grown, central coast artichoke farm artichokes and developed a unique, hands-on process that provides fresh tasting artichoke hearts to her customers. Always the innovator, Jane collaborated with Janet in 2022 to create Chef Butter.
Janet Melac studied at the Cordon Bleu in Paris, France where she graduated first in her class. She went on to own two award winning fine dining restaurants in California. In 2012 she joined Monterey Farms as Research and Development Chef and Quality Assurance Manager. In 2022, collaborating with Jane, Janet created Chef Butter, drawing from her knowledge of unique flavor combinations. She invites you to add a burst of flavor to your dining with Chef Butter.
I already loved Monterey Farms ArtiHearts, but the new Chef Butter has taken my cooking to another level ! Often I'm looking for just that little added something to enhance flavor to whatever I'm cooking and these butters do just that ! can't wait to see what more flavors they create !
Monterey Farms' Chef Butters are a game changer! They really elevate whatever you're making, and they take a lot of the guesswork out of seasoning. Everything I've made so far with them has turned out really well. I recently paired the French Herb with grilled Mahi and it was delicious!
Elizabeth Bishop
2023-03-07
The best grilled artichokes, available at Wegmans!